HOW TO RESTART, FACTORY RESET FITBIT CHARGE 3 OR FITBIT VERSA
RESET OR RESTART YOUR FITBIT CHARGE 3:
Fitbit is the name which comes first in the mind when we talk about the fitness tracker. Fitbit fitness trackers come with the lots of functionality which can help you in a daily routine.
Now, let's move on to our main topic, "How to reset Fitbit Charge 3 or Fitbit Versa". If you're facing small troubles like your smartwatch is not connecting with a smartphone or screen freezing then restarting your Fitbit smartwatch might help you. Remember that restarting your smartwatch does not erase any of user data. So, let's first see how you can soft reset your Fitbit smartwatch.
How to restart Fitbit Charge 3 or Fitbit Versa?
For resting your Fitbit Charge 3 or Fitbit Versa follow the steps given below,
Method 1: If your Fitbit smartwatch screen is responsive then follow the steps,
Swipe left on your Fitbit smartwatch until you see a settings icon.
Tap on the Settings icon then scrolls down till you find the about section.
In the about section, scroll down till you see the option restart (On Fitbit versa your will see the shutdown option).
Tap on the restart option.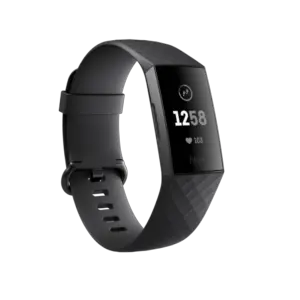 For turning on the Fitbit Versa press and hold the left side button on the Fitbit Versa. Now, if your smartwatch screen is unresponsive and you are not able to navigate the options on your smartwatch then follow the method below,
Method 2:
Connect your Fitbit smartwatch to your charger.
Switch on the charger.
Press the touch-sensitive button on the side of the smartwatch hold it for about 8 seconds.
Now, the smiley face will appear on the screen and your watch will restart.
HOW TO HARD RESET FITBIT CHARGE 3 AND FITBIT VERSA?
Hard resetting your Fitbit smartwatch will erase all of your data. Follow the steps below to factory reset your smartwatch,
Go to settings by swiping left on your Fitbit smartwatch.
Scroll down on your smartwatch and open the about section.
Now, scroll down in the about section until you see you see the clear data option.
Tap on the clear data option.
It will factory reset your Fitbit smartwatch and erase all the user data on your Fitbit smartwatch.
Note: This article is for educational purposes and any problem occurs to your device during following this article then we are not responsible for it. Kindly follow all the steps on your own risks.
You may like,
How to turn off heart rate sensor on your Fitbit charge 3 or Fitbit versa